DAY6 says "It's Okay to be Slow"
April 04, 2019
I'm turning 23 this year and I haven't graduated college. Some of my former classmates (or even younger schoolmates) already have their own work. Others have finished their Masters degree. And some even have their own family. It makes me think of myself. Why does it feel like I am the last?
One afternoon, I opened my Facebook account and saw a post from my former classmate. He is graduating from his Masters degree. I am happy for him since he finally achieved what he wanted. But at the same time, I felt bad about myself. Like what I have mentioned earlier, I am turning 23 this year and I haven't even graduated college.
I started having doubts about myself. Maybe if I just continued my first course I would have graduated already. I wouldn't be stuck now in front of my laptop doing my thesis. I could have been working and earning money now. Maybe I can tell myself that I am at the same chapter with everyone else.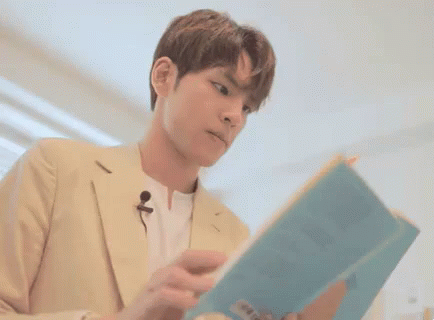 I tried to eliminate those doubts by working and studying at the same time. That maybe if I get a job while studying I can still stay that I am on the same chapter as they are. But for a person who was a weak body, I always end up being sick because I try to overwork myself to remove those doubts.
But DAY6 told me something. It's okay to be slow.
Last December 2018, DAY6 released their 4th mini album, Remember Us: Youth Part 2. One of the most memorable song in that album was Marathon. As a person who knows a little bit of Korean, I got intrigued with the chorus of the song.
Don't you run run run

많이 힘들잖아

이젠 걸어도

괜찮아 (괜찮아)




잠깐 쉬어도 좋아

쉬엄쉬엄도 좋아

무리하지 않아도 돼
There was also a part where DAY6 sang the words "It's okay to be slow."
Because of my lack of Korean skills, I immediately searched for the English translation of the song. I found this from
jaelavie
's twitter account.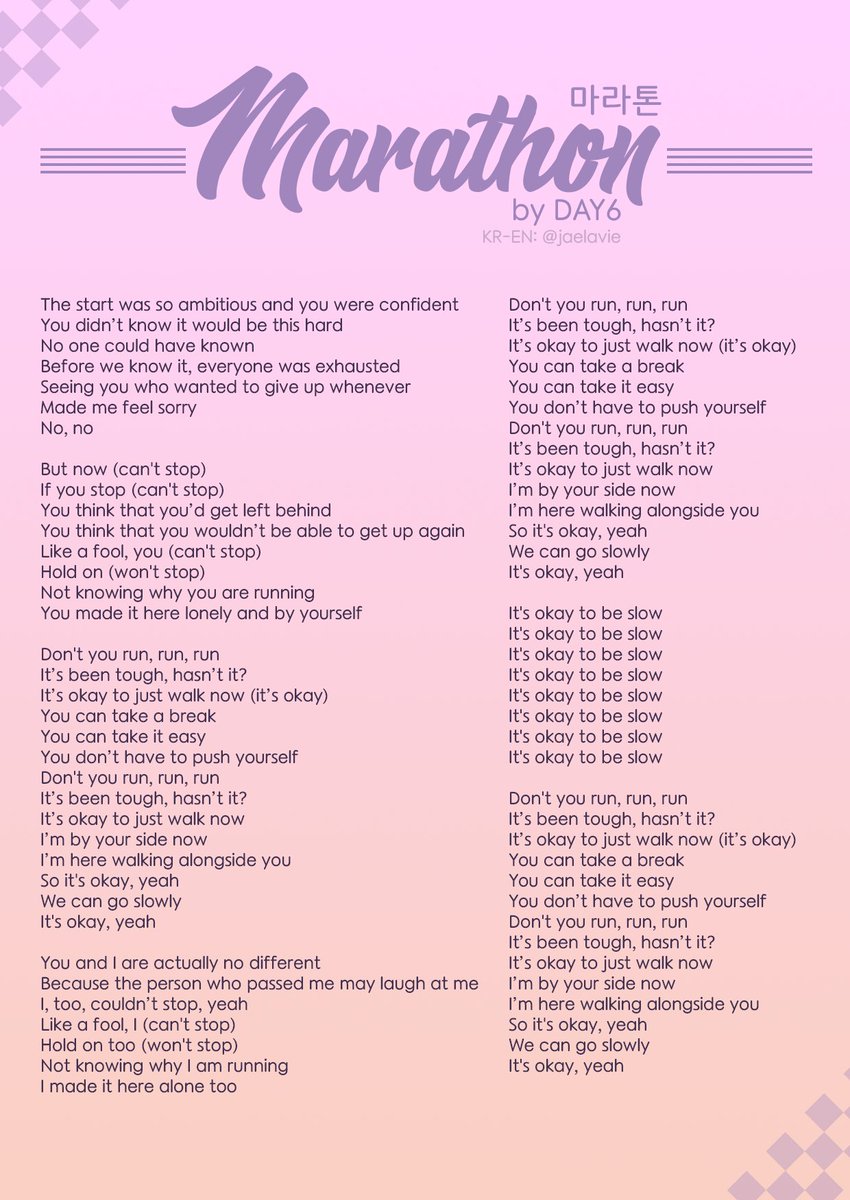 Listening to the song while reading this English translation made me tear up.
You can take a break, you can take it easy, you don't have to push yourself
Most of the time in our lives, we try to push ourselves to our limit (sometimes more than our limit) because we don't want to feel the guilt of being left behind. We try to run as fast as we can in order to catch up with our peers. And because of this, we get exhausted and feel like giving up on life. But like the song says, we should learn how to take it easy and not push ourselves to our limit. Why? Because it's okay.
I can say that I am guilty for pushing myself to more than what I can do because of the guilt that I feel for not graduating on time. But this song made me realize that instead of running to reach others, why not just walk and enjoy the journey? Besides, life is a journey, not a destination.
I'm by your side now, I'm here walking alongside you
DAY6 reminds us that we are not alone on this journey. We have other supportive people. We have them, DAY6, who is willing to walk with us. There will be some people who won't be supportive and just leave us instead. But there will be people who will accompany us on this journey, especially the people who experience the same trials we're going through.
It's okay to be slow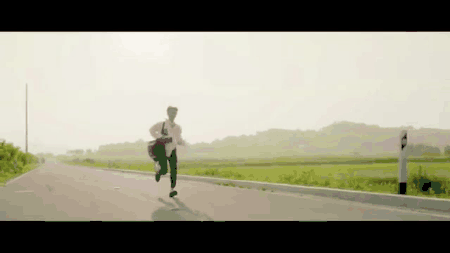 The song repeatedly said that it is okay to be slow. Why? Because it emphasizes that life is not a race. We do not need to run fast. What we need is to follow our own pace.
In my story, I don't have to rush myself into finishing college just because everyone else has finished it. Don't get me wrong. I'm not saying that I'll get delayed even more. But what I am saying is that I should just give my best to everything, not force myself to my limits, and just enjoy the journey. Allowing to be slow in life will make us appreciate our surroundings.
At the end of the day, there will be people who will wait for us and warmly welcome us with arms wide open when we reached our destination.
Life is not a marathon and it just feels one when we try to compare our achievements to other people's achievements. Marathon applies to anything we're facing in life. We don't have to rush things. Everyone has their own pace, their own timeline. Again, it's okay to be slow.
Listen to Marathon here:
---
Stan DAY6!