CDRAMA Review: A Little Thing Called First Love (2019)
March 12, 2020
Ever since the news that Lai Kuan Lin is having his acting debut, I have been looking forward for it. Just in case you don't know, Lai Kuan Lin is actually my bias in Wanna One. Even if Wanna One has disbanded, I still continue to support the members.
Anyway, news reported that Lai Kuan Lin will be starring on the Chinese adaptation of my favorite Thai movie, Crazy Little Thing Called Love. This made me more excited. My favorite Wanna One member + my favorite movie = a total combination. But because I was a bit busy with my internship, I was not able to watch it while it was still on-going. I just finished watching it last February 2020.
There may be some spoilers here on this review.
About A Little Thing Called First Love (2019)
Title:
A Little Thing Called First Love (
初恋那件小事)
Episodes: 36 episodes
Airing Period: October 23, 2019 - November 21, 2019
Characters:
Liang You Nian played by Lai Kuanlin
Xiao Miao Miao pkayed by Angel Zhao
Lin Kai Tuo played by Wang Run Ze
He Xin played by Chai Wei
Lin Xia played by Wang Yi Miao
Wang Yi Chao played by Wang Bo Wen
Fang Xiao Yue played by Zhu Jin Tong
Plot: It is a story of an ordinary girl (Xiao Miao Miao) who develops a crush with the famous guy (Liang Younian) in school. Because of her feelings for him, she decided to change herself for the better. She studied hard, fixed her physical appearance, and improved her skills.
Fact: Like what I have mentioned earlier, this is an adaptation of the Thai movie, Crazy Little Thing Called Love, starring Mario Maurer and Baifern Pimchanok which was released in 2010.
Things I like about A Little Thing Called First Love (2019)
They maintained most of the key scenes from the original
These are just some of the scenes that they have presented, there were a lot more in the series, which made me really really happy. This drama served as an ultimate throwback from those good times.
The gradual change of Xiao Miao Miao
Since this a series, it was able to show Miao Miao's change in a gradual way. It first started with her teeth, then her skin and hair. It didn't happen overnight. In fact, during these changes, she even encountered having allergies on her faces.
They added new love stories
Because I already know what may happen to the two leads, I became more focused on the other two love teams - He Xin and Lin Kai Tuo, and Wang Yi Chao and Fang Xiao Yue. They weren't in the original film which only means their story is new. Those two love teams added the thrill to this series.
There were times when I got bored with Liang Younian and Xiao Miao Miao but good thing these other two love teams were there to make me laugh.

He Xin and Lin Kaituo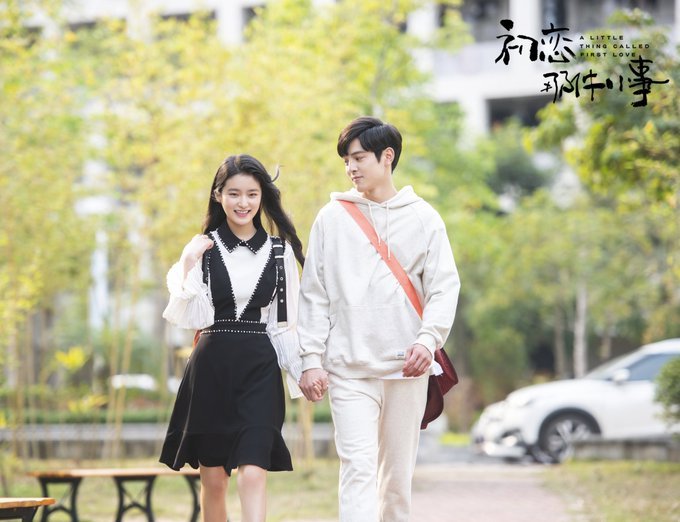 He Xin is Xiao Miao Miao's friend and Liang Younian's cousin. Lin Kaituo is Liang Younian's step-brother (they are not really blood-related). In their love story, He Xin is the first one who likes Lin Kaituo but unlike Miao Miao, He Xin is a bit of a strong woman.
She always confesses to Kaituo, followed him, does anything for him. But they always fight because Kaituo has anger issues.
Yi Chao and Xiao Yue
On this love team, it's the other way around. The guy (Yi Chao) was the one who keeps on following Xiao Yue. Both of them are Liang Younian's friends. That's why there are times when Younian became the mediator of the two.

Bonus: Love story between their professors

Another fun thing in this series is that, they also added a love linear (Lu Peng doesn't like anyone) between the professors. It's just so funny that everyone here ended up with nobody yet they still have these feelings.


The series was a bit of a slice-of-life
One of the things that I noticed here was that Miao Miao's mother and Younian's father never liked the course or major that they were taking.
Miao Miao's mother wanted her to take Architecture because it's the best in the country and may bring lots of money to her in the future but Miao Miao wanted to take fashion design. On the other hand, Younian's father doesn't want him to take Architecture because of what happened to Younian's mother. He doesn't want his son to experience such accidents too.
This issue is already a common thing. Most of the times, parents never liked the courses or majors that their kids take because of some reasons. But at the end of the day, it's the kid who will live his or her own life. So I hope parents will just be supportive.
Another thing here is the issue between Younian and Kaituo. Since Younian's mother died and Kaituo's mother is divorced, Younian's father and Kaituo's mother decided to be together which was against their children's will. And that bruised Younian's and Kaituo's friendship.
Things I somehow disliked with A Little Thing Called First Love (2019)
It was clearly seen that Younian liked Miao Miao
One of the most memorable thing that happened in the original was that Nam didn't know that Shone actually liked her. And that's the main point of the story. Unfortunately on this series, it was clearly seen that Younian liked Miao Miao.
When the two of them started dating (which never happened in the original), I somehow lost my interest in them. I don't know but I started skipping some parts because I find it a little cringey already. The pool part, yes it was there, but I didn't feel much pain in watching it. It wasn't that touching. And I also don't know why.
I never felt that they were in college
Maybe because of cultural differences? But all these time, I felt like they were just in high school. In the Philippines, once you're in a big university, you'll barely interact with your seniors unless you joined their club, you took advance classes, or your senior had to retake another subject. But here, it can be seen that ALL seniors and juniors interact with each other which I found it a little bit odd.
Plus their activities were a bit of a high school thing. I don't know. Maybe it's really how college works there.
Conclusions
A Little Thing Called First Love (2019) made me remember all the good things of having a crush. This series made me want to go back to high school and feel the puppy love again. Being in a situation where everything is becoming serious, I guess it's really time to think about the fun things that happened before.
This drama is a very chill story. There's no intense drama. There may be problems but not to the point where you'll cry so hard. If you want to watch something that is not that heavy, I recommend this drama. It will just make you fall in love all over again.